O2 World Arena
Berlin, Deutschland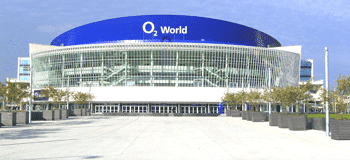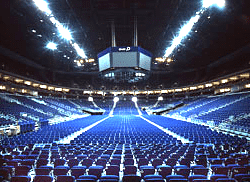 At the O2 World Arena in Berlin, BACnet based building automation and facility management ensure that the location can be quickly configured to meet the demands of a broad spectrum of events. ABB standard drives for HVAC ensure high flexibility of its facilities.
World Arena from a concert venue to a sporting arena in only a few hours ensures that it can be used with maximum efficiency. The facts and figures are impressive: 17,000 seats, 59 entertainment lounges, more than 100 shops, and a total indoor air volume of 230,000 m- to be controlled. The building automation and building management systems were designed and implemented by GFR Gesellschaft für Regelungstechnik und Energieeinsparung mbH.
Easy connection to BACnet/IP:
GFR selected ABB ACH550 standard drives for HVAC, to control the speed of the HVAC system's fan motors. A key benefit of these drives is their straightforward connection to the BACnet/IP network through an optional snapon BACnet/IP router module, which can be mounted inside the drive. A total of 36 ABB standard drives, ranging from 7.5 to 45 kW, are arranged in multiple BACnet MS/TP sub-networks using EIA-485 serial communication. Each subnetwork is connected to the BACnet/IP network through a BACnet/IP router. Each router serves two to eight drives, which enables cost-effective sub-networking.
High Transparency:
The ACH550 is supplied with BACnet MS/TP as standard, and BACnet/IP is available with the optional router. Compared to more elaborate gateway solutions requiring a significant parametrization effort, the BACnet/IP router enables true transparency from GFR's BACnet based building automation and facility management system to the ABB drives. The RBIP-01 BACnet/IP router module is easy to install. Web server functionality enables access and configuration using a standard web browser. At O2 World Arena the router modules considerably facilitated the integration of the ACH550 drives into GFR's BACnet concept. Smooth integration of the drives saved time and ensured wider access to the drive parameters. Thanks to the BACnet protocol, drive I/Os are freely available to other BACnet units, such as direct digital controllers (DDCs). Maintenance and energy savings counters are visible to the BACnet network and accessible, for instance, from BACnet operator work stations (OWS).
Conformance with Standards:
The ABB standard drive for HVAC meets the international BACnet DIN EN ISO 16484-5:2007 standard and conforms to the European standard for harmonics, IEC/EN 61000-3-12, which sets stringent limits with regard to current harmonics for devices connected to the public mains. In fact, the drive's 'swinging choke' feature reduces harmonics in partial load operation by up to 25%. Conformance with the European harmonics standard helps to promote safety and streamline tasks related to planning and facility management.