BACnet (Building Automation and Control Network) is the global data communications standard for building automation and control networks. It provides a vendor-independent networking solution to enable interoperability among equipment and control devices for a wide range of building automation applications. BACnet enables interoperability by defining communications messages, formats and rules for exchanging data, commands, and status information. BACnet provides the data communications infrastructure for intelligent buildings and is implemented in hundreds of thousands of buildings around the world.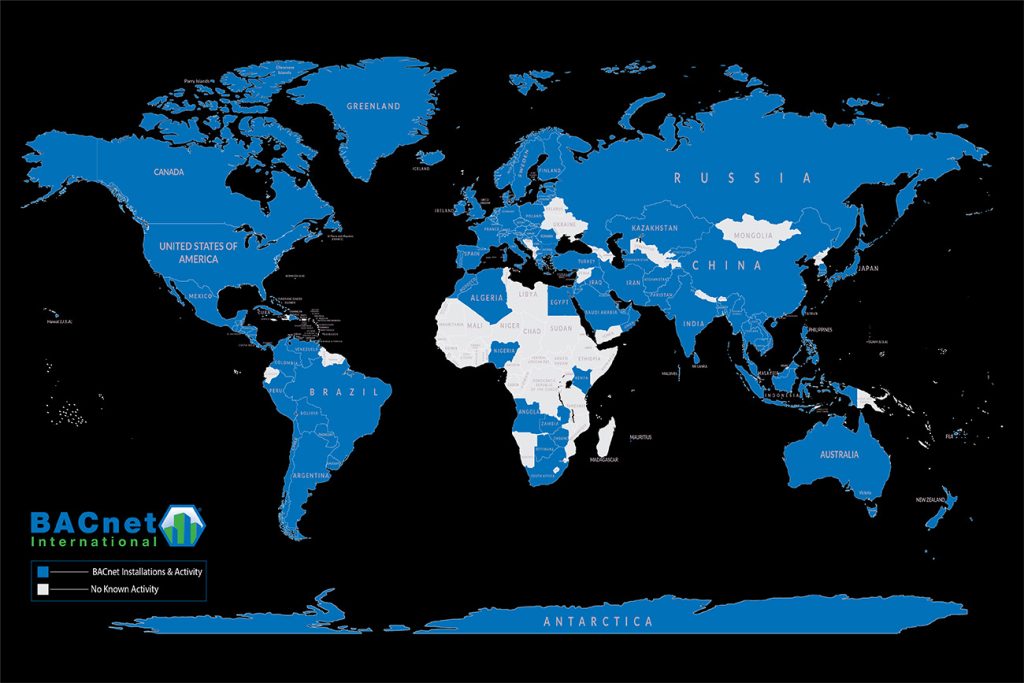 Building automation designers use BACnet for connecting multiple devices and systems to implement sophisticated energy management, occupant comfort, and building security applications. They also use BACnet to integrate information and control for multiple building systems into a single graphical user interface. The use of BACnet in building automation simplifies operations, reduces training, streamlines maintenance, offers flexibility, and allows for backward compatible extensions and cross-functional add-ons.
The BACnet standard was developed and is continuously maintained by the BACnet Committee, more formally known as SSPC 135 (a Standing Standards Project Committee) of the American Society of Heating, Refrigerating and Air-Conditioning Engineers (ASHRAE). BACnet is an ISO standard (EN ISO 16484-5), a European standard (DIN EN ISO 16484-5:2017-12) and a national standard in many countries.
Key BACnet Benefits
Worldwide standardized data communication for building automation
Independent of specific technologies and suppliers
Comprehensive solution for building control and automation networks
Compatibility with IT infrastructure and highly scalable solutions
Validation at independent testing laboratories and product certification
Continuously being maintained and upgraded while preserving current investments
Typical BACnet Applications
Heating, ventilation, and air conditioning
Lighting control
Elevator monitoring
Access control
Security and fire alarm systems monitoring and integration
Energy management and energy services
Operations data (XML)
For an overview of BACnet, see the free, two-hour online course called "BACnet Basics" in The BACnet Institute.
BACnet Organizations
The BACnet global community is supported by a network of not-for-profit organizations providing technical information, education and product certification services. Some of the most active groups are:
Other BACnet Interest Communities
Most countries have a community of BACnet users and suppliers. In some cases, the community is informally organized. For information on specific countries or communities, contact us.