Crate & Barrel – Streets of Southpoint
Durham, NC, United States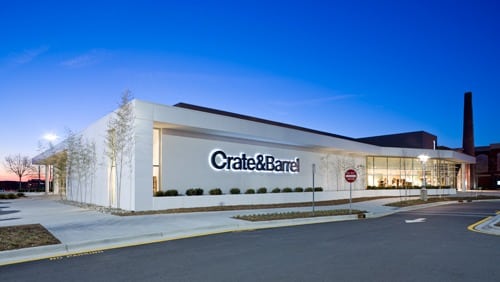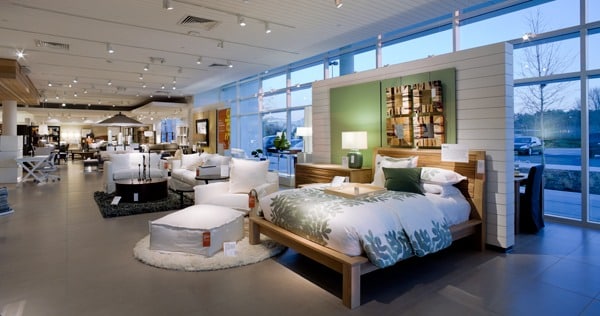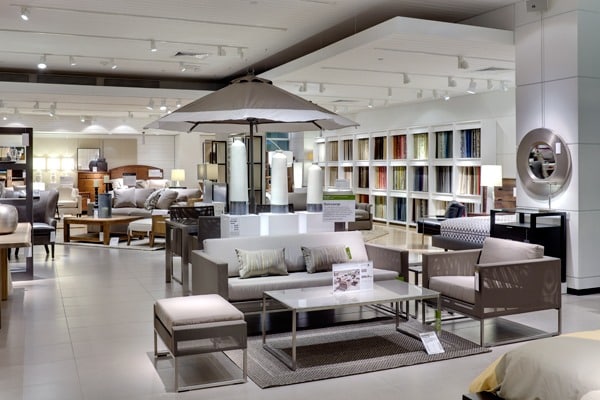 Crate & Barrel's contemporary, unique, and affordable housewares, furniture, and home accessories make them a favorite retail shop for many. Founded in 1962, Crate & Barrel is a 170+ store chain of retail stores, based in Northbrook, Illinois. As an innovator of the "vignette" style of retail, Crate & Barrel groups items together in the store as they might appear in the home.
Crate & Barrel's "Streets of Southpoint" retail store is a 25,000 square foot facility in Durham, North Carolina. The store opened in the spring of 2011 and is a LEED Gold project. Since Crate & Barrel's retail mission is to satisfy the 3 "P's" – People, Product, and Presentation, they chose a 1-story building with 10 varying ceiling heights and an abundance of natural light. The varying ceiling heights allow them to suspend over a mile of track lighting – over 1000 lights – all for the purpose of showcasing their products perfectly to customers.
There were 3 unique challenges associated with installing a control system in the Streets of Southpoint store:
(1) The HVAC system had to be able to handle the extra heat load generated by over a mile of track lighting. While typical big box retail stores generate 3 watts of heat per square foot, the Streets of Southpoint store generates 6 watts of heat per square foot, making it very challenging to keep customers in the store comfortable. Because Crate & Barrel sells both housewares and furniture, they want to make sure that customers linger and see all that the store has to offer. In order for them to linger, thermal comfort is a necessity.
(2) The HVAC system must be able to provide precise humidity control in order to protect products, flooring, and furniture in the store.
(3) Integrated lighting control is key for allowing fluid scheduling capabilities between the HVAC and lighting systems. In the past, stores used a separate system for lighting control, which was complex and expensive to maintain. A single system that schedules both lighting and HVAC equipment reduces not only installation costs and commissioning time, but also the training time required for store operators.
Temperature Equipment Corporation (TEC), a Carrier Distributor in Melrose Park, Illinois, was up for the Crate & Barrel challenge! Dominic Eorio, Manager of the TEC Controls Division, installed Carrier's latest i-Vu® Open Control System, which features native BACnet controls and the powerful i-Vu Open user interface for web-based monitoring and control of the entire facility. Native BACnet controls were installed on all of the equipment in the store, including 7 rooftops, 3 exhaust fans, 8 lighting zones, and a unit heater. In addition, Carrier also installed other manufacturer's equipment to complete the BACnet solution: BAPI wireless temperature sensors, GE C02 sensors, and Veris BACnet power meters. The retail store uses a total of 29 devices, 2,715 points, and 120 tons of total cooling.
The inherent features of Carrier's i-Vu Open Control system played a pivotal role in the solution for the Streets of Southpoint store. Each rooftop controller arrived with a factory-engineered control algorithm designed to optimize the performance of the attached equipment, eliminating the need for field programming. In addition, built-in strategies such as Demand Controlled Ventilation (DCV), integrated economizer control, airside linkage, and dehumidification were essential in making sure that the rooftop units met the specific load demands of the zones. While DCV ensured that adequate fresh air was brought in through the economizer as occupancy in the space changed, the airside linkage routine optimized the rooftop equipment to make sure that desired space temperatures were maintained properly. These built-in control routines were critical for keeping occupants comfortable in the store. In addition, the i-Vu Open user interface provided powerful and flexible scheduling capabilities for both the HVAC and lighting systems, ensuring that Crate & Barrel had complete control of both systems from a single front end.
John Moebes, Director of Construction for Euromarket Designs (the corporate name for Crate & Barrel), was very pleased with the outcome of the project, stating that, "It is rare to find someone like Dominic who can design a solution based on our needs, rather than building a solution from a set of requirements." In addition, he commented that, "The cooperation of multiple vendors and their demonstration of teamwork played a huge part in the overall success of this project."
Dominic has been working with Crate & Barrel to standardize on this BACnet solution for many of their other home stores, including their new chain of sister stores called CB2, which are geared towards young adults. Standardizing on a working solution throughout all stores streamlines installation and controls operating costs. When asked about the winning solution that he designed specifically for Crate & Barrel, Dominic commented that, "Most controls companies only focus on 90% of the equipment in the building, but we focus on 100%. You have to control everything if you want to maximize energy savings. And, you have to maximize the usage of each BACnet controller in order to consolidate costs. For example, we installed a controller for lighting control in the store, but we were also able to use that same controller to control the exhaust fans in the building, as well as to perform other functions like fire and global emergency shutdown." In addition, standard push button lighting override switches were added to provide flexibility without adding additional costs. "It's the little things that make the biggest difference", explained Dominic.
When asked if BACnet played a pivotal role in the success of this project, both Dominic and John felt that it had definitely contributed to the overall flexibility in the control system design for this store and future stores. "Being able to integrate to the Veris BACnet power meters was key in measuring the store's energy usage and also allows us to secure additional energy savings with Carrier's kWh demand limiting routine, which is a strategy that allows the store to shed load during peak demand periods", stated Dominic. He then added, "Another way that we have streamlined installation is to factory install the Veris BACnet power meters into Crate & Barrel's power distribution panels so that they can be delivered to the site as a packaged component." In addition, being able to use wireless temperature sensors in the Crate & Barrel stores is essential. These sensors can be relocated easily within the store at any time. This is advantageous because if a temperature sensor is adversely affected by the abundance of track lighting and varying ceiling heights, a sensor can be moved to more accurately measure the temperature in the store. "We happened to use BAPI wireless sensors for this particular store, but there are definitely BACnet versions in the market to investigate for future stores", expressed Dominic.
So, was this a BACnet Success Story? Most definitely! Overall, Carrier's i-Vu Open Control System was able to meet the 3 challenges that it faced with the Streets of Southpoint store. The system not only provides precise temperature control in an environment where the heat load is increased by over a mile of track lighting, but it also provides proper humidity control to protect store content. In addition, the lighting was integrated seamlessly into the control system, providing them with flexible scheduling options using the i-Vu user interface. And the best part? Compound energy savings! In addition to the energy savings that were obtained by the control system design, the track lighting in this store was modified to use 6 watts per square foot rather than the typical 12 watts per square foot used in previous stores. As a result of these 2 changes, Crate & Barrel's HVAC costs were driven down 70% from their earlier stores.
One final note: This store is Crate & Barrel's most successful home store project to date, in terms of schedule and budget/installation costs. While it typically costs Crate & Barrel $9 million and 22 weeks to open a store, the Streets of Southpoint store cost 4.5 million and opened in 18 weeks. A big part of their success was due to vendor cooperation and streamlined installation processes. Congratulations!