Grand Traverse Pavilions
Grand Traverse County, Michigan, United States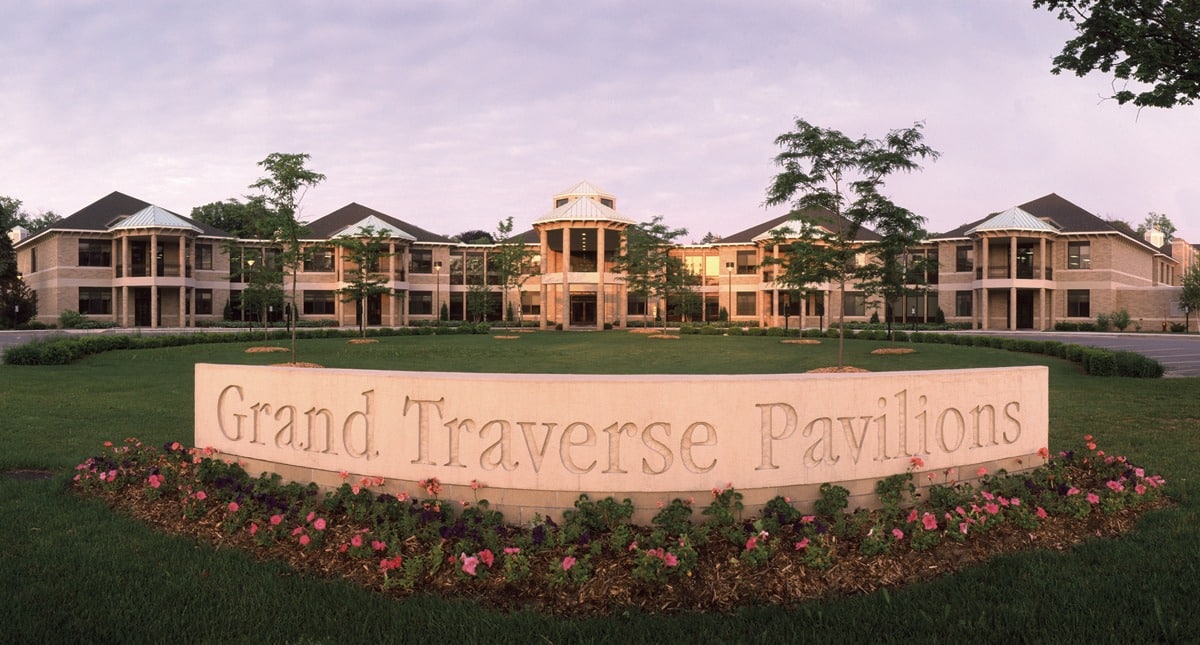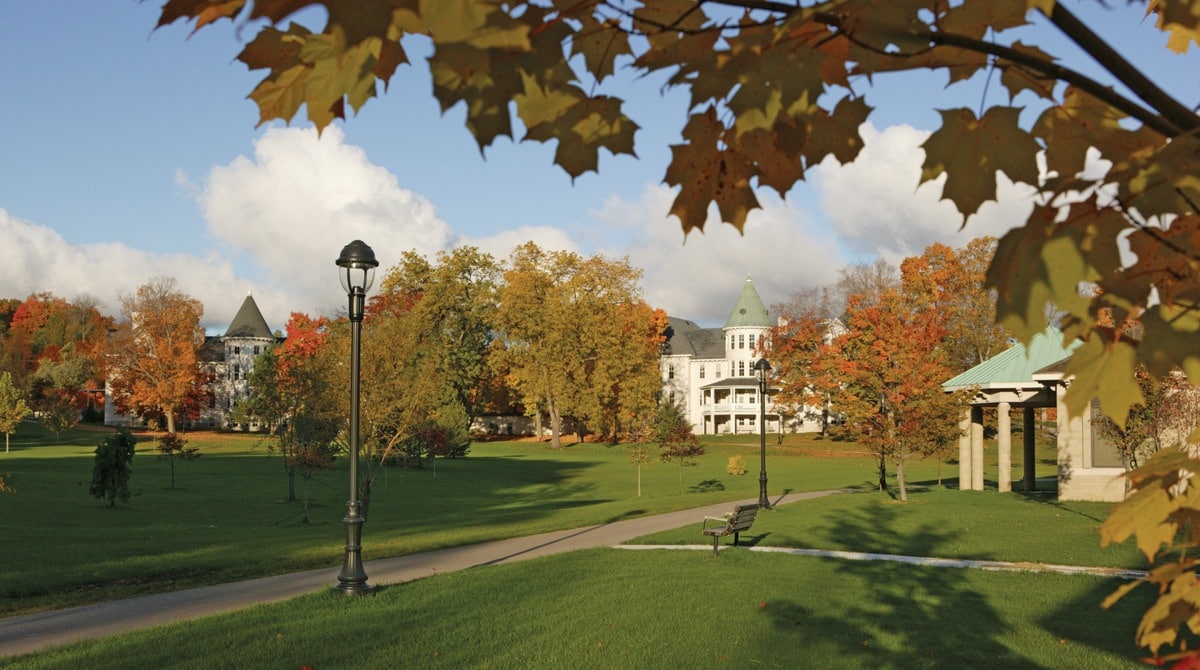 In 1999, Grand Traverse County in northern Michigan added a key component to its historic Grand Traverse Commons campus: the Grand Traverse Pavilions. The campus is unique in and of itself; it is home to several historic buildings on the former grounds of the Traverse City State Hospital, Northern Michigan Asylum, and Grand Traverse Medical Care. The latest addition provides state-of-the-art housing and rehabilitation facilities built around 19th-century architectural themes to compliment the surrounding scenery.
Home to more than 300 residents, the Pavilions is owned by Grand Traverse County and operated by the Grand Traverse County Department of Human Services Board. The organization provides a continuum of community-based senior and intergenerational residential care offering a variety of adult respite services and supported and assisted-living areas. The facility employs a highly-skilled long-term nursing team specializing in Alzheimer's and dementia care.
The two-story, 175,000-square-foot facility contains numerous sustainable features and is designed to emulate the well-preserved 19th century Victorian-Italianate style buildings scattered throughout the campus. In reflecting these native design features, the Pavilions balances classic, old-world charm with modern amenities nestled in ambient, pastoral surroundings.
The only organization of its kind in northern Michigan, Grand Traverse Pavilions is nationally renowned for both its preservation and restoration advocacy and attention to contemporary constituent needs. "This facility has played a vital role in ensuring access to high-quality care and services to our community. We have been honored with numerous regional, state and national awards for exceptional multi-aged programs and services," commented Patti DeAgostino, Development & Marketing Director for Grand Traverse Pavilions.
When it opened, the Pavilions set a new standard for patient and family-centered health and residential care. Their mission to continue as the premier health care and residential continuum of choice in Northern Michigan has remained unchanged. Today, however, the mission goes far beyond providing excellent health care and residential services to a focused commitment on sustainability, environmental conservation, and continual improvement of processes, systems, and technology.
The Pavilions management team understands the importance of creating and maintaining a healthy building environment for residents and employees.
Moreover, last year The Pavilions provided more than $3 million in uncompensated benevolent care, relying on no county monies for operations nor funding from any one primary source to offer programs and services to the community. As a nonprofit organization in an era of reduced budgets and cost cutting, the ability to be as energy efficient as possible while at the same time furthering the organizations goals is paramount.
These priorities have led the Pavilions management to take full advantage of today's most cutting-edge technologies. Noticing that the original building management system was not keeping pace with energy-intensive facility needs and complex indoor environmental quality requirements, the county recently sought the assistance of Air-N-Energy Consulting, Inc., a local Traverse City, Michigan-based energy management firm and KMC Controls authorized representative.
The first order of business was for Air-N-Energy to perform an energy audit and prepare a related proposal. "The building owners and maintenance personnel were looking to improve comfort, control, and operational efficiency of their building,"commented Greg Salisbury, Energy Manager for Air-N-Energy's controls division. "Our assessment," he continued, "found that the building was being managed with an outdated control system communicating with over 100 unitary controllers that had become obsolete. Additionally, the facility's radiant ceiling panels needed to be re-piped and re-sequenced with the existing VAV boxes. The system was inefficient, making even routine management complicated and laborious for facility personnel." Salisbury concluded, "Our overall goals were to redesign and reconfigure the systems to add capacity and better control comfort levels and efficiency."
Mindful of both the superior indoor environmental requirements and operational goals of the facility ownership, Air-N-Energy began the retrofit of the existing multi-vendor control system and replacement of aged chiller equipment. Using KMC BACnet Advanced Application Controllers, Air-N-Energy seamlessly integrated 108 variable air volume terminals, 13 AAON air handling units, and a new chilling system from McQuay International into the building's Tridium JACE/NiagaraAX framework. The resulting system allows for instant, transparent, and responsive control via an online web portal.
By re-piping and re-sequencing the radiant ceiling panels with the existing ventilation air distribution system, they were able minimize energy consumption while maximizing tenant comfort.
Many of the legacy control devices from Delta Controls were left in place but achieved improved integration into the remainder of the building systems for added energy management and resultant savings.
The results of these improvements were noticed quickly. According to Michael Bobrowski of Air-N-Energy, The Pavilions has realized savings both by achieving a lower total energy consumption rate and more balanced control. "Before the re-work, there were a great deal of issues with the systems heating and cooling at the same time," Michael observed, "By getting proper control of all the equipment, we were able to reduce the cooling load on the chiller and reduce the heating load on the boiler." Michael continues, "The forecasted savings are approximately $76,000 in annual utility expenditures, and with the recent price drops in natural gas, the total energy costs are sinking even lower."
According to Grand Traverse Pavilions Director of Environmental Services, Dr. Robert Siekman, "The KMC system installed by Air-N-Energy has been great. The communication between the controls on the network has given us a much better perspective on the operation of our buildings. In terms of energy savings, we have certainly seen a return on our investment and our overall energy usage has been much more consistent over time. So far, the interoperability between the BACnet devices from various manufacturers has been flawless."
As the Pavilions' management team moves forward in executing its vision of becoming the premier health care and residential continuum of choice in northern Michigan, the Pavilions' community will undoubtedly benefit from the investment that has been made in the facility's infrastructure.