The Chinese University of Hong Kong (CUHK)
Sha Tin, Hong Kong, Hong Kong
Completed: December 2008 - first phase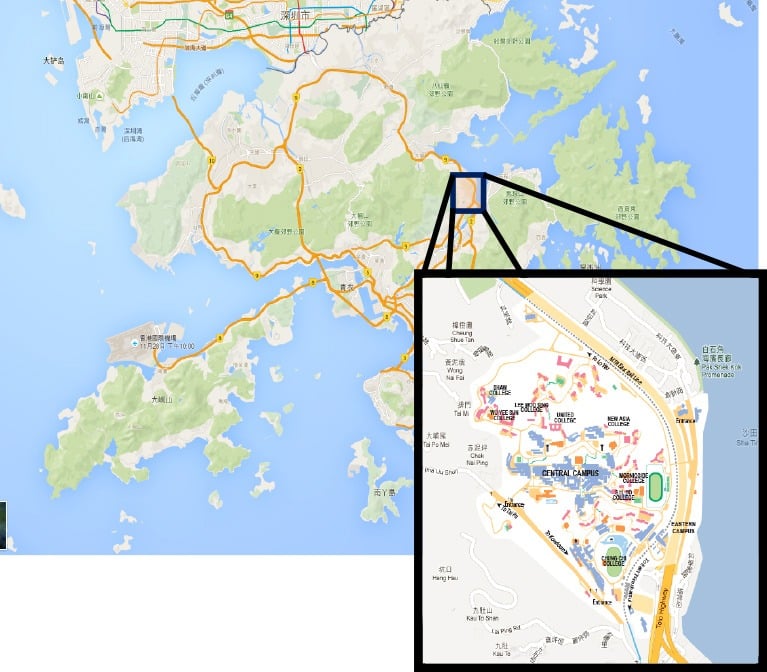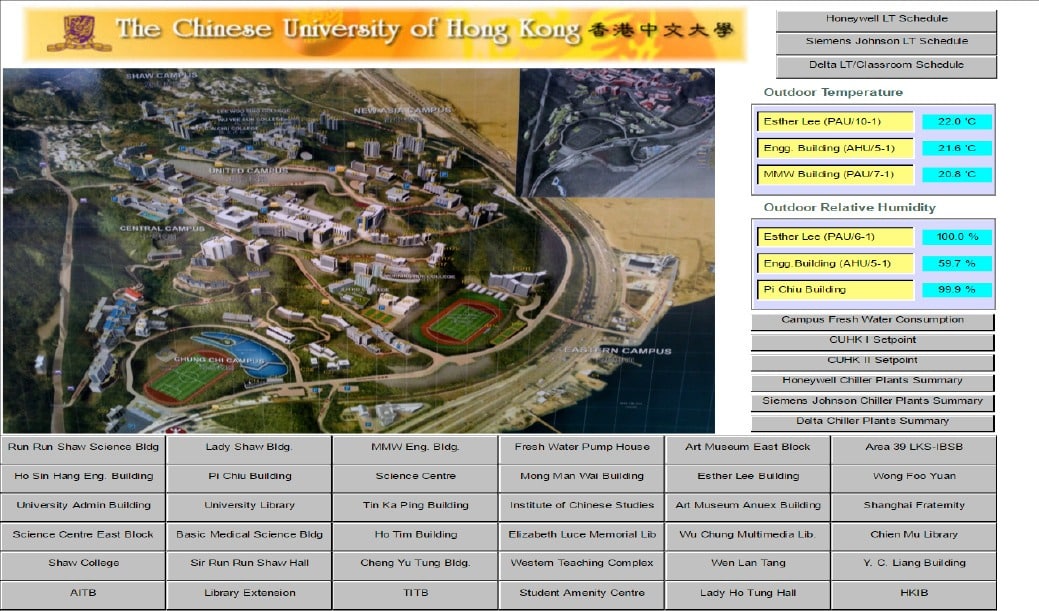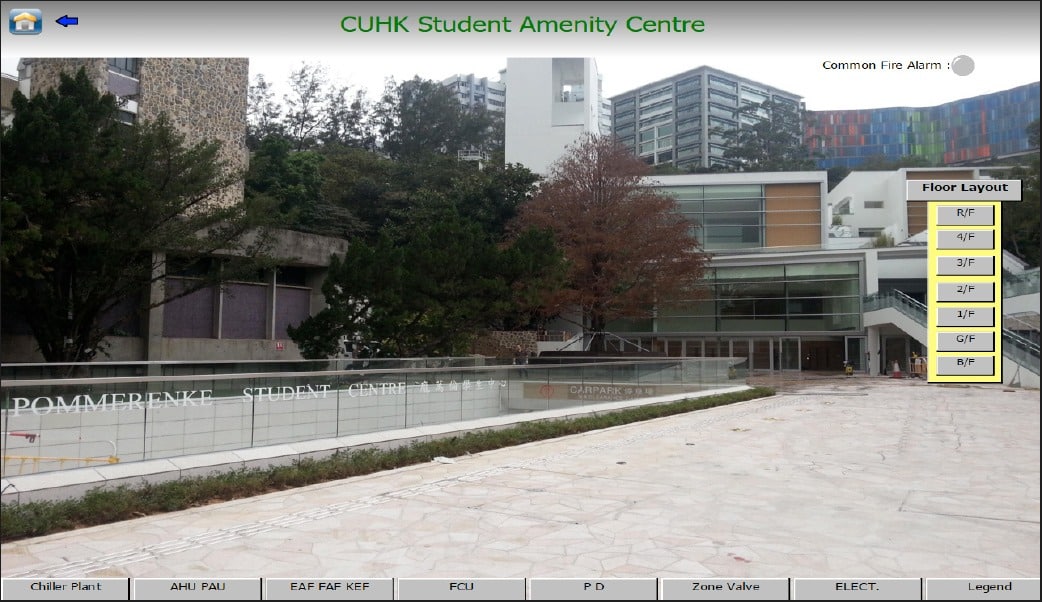 The Chinese University of Hong Kong (CUHK) was founded in 1963 from an amalgamation of 3 tertiary colleges dating back to 1949. Most of the 137.3-hectare (340 acre) campus is covered in greenery, which is nicely carved out of rocks on three plateaus. In addition, there are more than 150 buildings nestled among the greenery, featuring a mix of historical Chinese and contemporary Western architectural styles, including world-class libraries, art museums, music halls, a swimming pool, sports fields, tennis courts, squash courts, a water sports centre and gymnasiums.
ISSUE:
During the history of the campus development, new buildings were erected and old buildings were retrofitted. Building Management Systems (BMSs) were installed in various buildings by different contractors employing different BMS vendors at different stages and times. The result was "islands" of 20 different BMS vendors within the campus. The need for a campus-wide Building Management System for centralised monitoring and control became a necessity rather than luxury. This was due to several factors:
• There was an increasing workload on the technicians and engineers who dealt with the many different HVAC systems among the various buildings. Moreover, with staff turnover, there was a longer learning curve in the BMS operations for new recruits taking away from training in other technical areas.
• Many interactions were required among the buildings, such as the sharing of chilled water between buildings and homogenized switching of campus lighting. Daily operation required such interoperability among the various sub-systems, and a smooth interaction among the different devices was imperative.
• As more AA&I (Addition, Alterations and Improvement) works were to be performed within the campus, a single tender was no longer acceptable to the board. However, having multiple vendors without a common BMS protocol would have been a nightmare to the already overloaded operation and maintenance team.
SOLUTION:
With the intent to satisfy all of the requirements above, an open protocol approach to the campus BMS was adopted in 2006. BACnet was the obvious protocol of choice.
In order to achieve the ultimate goal of integrating all BMS on campus, studies were carried out and it was decided a phasing approach would be taken to migrate all of the existing BMS equipment into BACnet while also specifying BACnet compliance in any future AA&I works. This would help converge the campus into an open platform based on BACnet.
One vendor was selected to integrate the existing BMS "islands" into a single system and the architecture was simplified through the BACnet implementation:
A central web server was set up for supervisory control and monitoring. It also served as a common window for an operator to access BMS devices in various buildings. A dedicated VLAN (virtual LAN) was constructed within the campus intranet to connect all the BACnet devices. Operator terminals or tablets were designed to access BMS information via the intranet. Legacy systems were evaluated based on their scale, importance and ease of migration. As a result, some were left as individual islands until their lifetime is over, while others were connected with a BACnet gateway to migrate the existing points into the BACnet network.
RESULTS:
Uniform User Interface – Upon login to the web server, users are presented with an overview of the university campus and some general conditions such as Outdoor Air Temp and Relative Humidity. They can then choose a particular building of interest. Every Building in the system has a consistent UI layout where the outlook of the building is shown and users can further penetrate the system to view details via sub-systems or floors selected.
Interoperability – There is a third party classroom booking system that is used by all students and staff throughout the campus. Lighting and HVAC services, such as the Fan Coil Unit, must be enabled during the booked periods. With the BACnet devices connected, sophisticated gateways are not needed in order to transfer schedules among the different vendors to coordinate such bookings. Moreover, just a single interface is needed in order to transfer booking information into the BACnet schedule for control of relevant devices.
Clock Synchronization – This was always an issue to this vast campus. With BACnet, it had been remedied. All of the clocks on all devices in the network are synced to the main workstation clock, which is in turn synced with an internet clock via NTP.
INTEGRATION FACTS:
There are approximately 92,000 BACnet objects on campus, out of which 44,500+ objects are third-party. (Third-party meaning non-Delta Controls BACnet objects.) The objects are being treated the same as Delta Controls's BACnet objects according to the services and properties offered in their respective PIC statement.
There are in total 34,800+ physical I/O points on campus, out of which 20,000+ are interfaced from 3rd party devices.
There are in total 2,589 BACnet devices on campus, out of which 903 BACnet devices are 3rd party, constituting more than 30%.