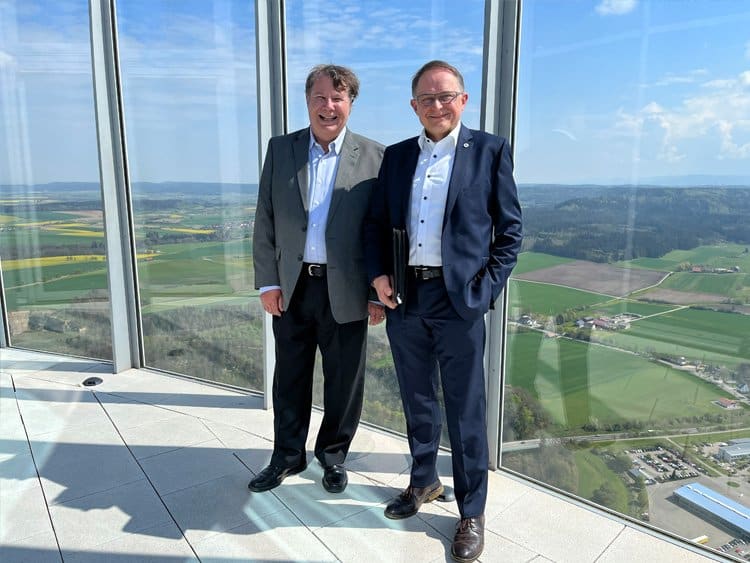 Andy McMillan (President BACnet International) and Karl Heinz Belser (President BACnet Interest Group Europe (BIG-EU)) on the TK elevator test tower (from left to right). © BIG EU
Communication with fire alarm systems enables evacuation
Aachen, 29.08.2022 – New opportunities for system integration with BACnet were explored by high-ranking BACnet representatives during a visit to the TK Elevator Test Tower Rottweil (TKE). Karl Heinz Belser, President of the BACnet Interest Group Europe (BIG-EU) and Andy McMillan, President of BACnet International, highlighted the benefits of networking building automation and elevator control.
System integration enables new functions. The Occupant Evacuation Operation (OEO) can be implemented through the BACnet communication of fire alarm systems with the elevator technology. Elevators outside the burning part of the building can then be used for evacuation.
Cross-manufacturer communication between elevator and building technology has been part of the BACnet Standard for many years. On this basis, a first industry exchange took place at the BACnet Indoor Mobility Conference 2019 in Frankfurt. In the course of communication with the VDMA specialist area "Elevators and Escalators", Karl Heinz Belser presented the topic in February.
With the visit to Rottweil, the application possibilities were deepened again. Joachim Dienelt, TKE and TK Elevator Works, guided the visitors through the 230 meter high test tower, in which a speed of eight meters per second is reached. The focus was on challenges, but especially solutions that will occupy lift and building technology in the future. "For both sides, the on-site meeting with the lively exchange was so important," summarized Karl Heinz Belser.
For further dialogue with the VDMA "Elevators and Escalators" division, the BIG-EU will participate in the E2 Forum, which will be held in Frankfurt on September 21–22, 2022: visit: www.e2forum.com.
In parallel, the BACnet International wants to make stronger contact with the elevator industry in the USA.